Wills and Estates Planning that starts with your goals — not your details
Hi. I'm Craig Tervit. I made the decision to found The Last Word during my year of articling (a kind of legal internship). My articling experience was typical, involving long hours, tedious work, and assignments that no one else wanted to do, interspersed with brief periods of abject terror when I had to do something of importance that I didn't yet have the confidence to just 'do'.
What was unique about my articling experience was that I was entrusted with my own files. I had a chance to run client meetings, give explanations of their documents and hear their concerns first hand. I loved it, and from that moment forward I have been a Wills and Estates Lawyer.
Your professional, modern and accessible lawyer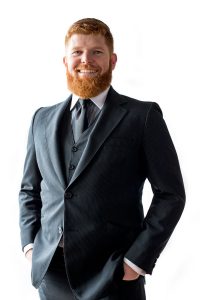 The Last Word is a modern approach to Wills and Estate Planning. We provide digital copies of all your files, and creative solutions to current challenges like your online presence and digital media.
We also recognize that occasionally a client's mindset might change after completing their documents. Which is why we have a policy that allows for a revision within six months of signing your initial documents. Free.
In practical terms, our goal is to accommodate you in any way we can – we are fully accessible, whether you meet us at our office downtown, or you would like us to come to you. Whether you want to meet on your lunch break during the week, or on the weekend.
Experienced in what matters to you
As the founder of The Last Word, I have a wealth of experience in Wills and Estates, Surrogate Court and Represented Adult matters, as well as Business and Family Law. I have successfully helped individuals and families with the full spectrum of Estate Planning matters, including blended families, succession plans, and planning in concert with separation agreements.
I also have extensive experience with all manner of Trusts work – for charities, children, represented adults, and spouses. I have prepared Wills for individuals with property in foreign countries, and I work frequently with clients' financial planners and accountants.
Prior to establishing The Last Word, I articled with a local Wills, Estates, and Corporate-Commercial Boutique Firm and worked in the areas of Family Law and Wills and Estates Planning at a Law Firm in downtown Calgary.
I received my Bachelor of Arts in English (2007) from the University of British Columbia and my Juris Doctorate and Master of Business Administration (2014) from the University of Calgary. I was called to the Alberta Bar in 2015 and am an active member of the Alberta Bar Association, the Canadian Bar Association and the Calgary Bar Association.
I wholeheartedly love my work because every day I am given the opportunity to assist people in planning for the future. I have the best clients, and work hard every day to ensure that I exceed their expectations.
Book a Free Consult